10 First Dance Songs to Completely Avoid
---
June 28, 2018
Wedding blog
---
So you've said your vows, exchanged rings, filled up on food and now comes the long awaited first dance. Ah, that ever memorable dance, the perfect photo opportunity and the moment all your wedding guests stand and watch as you awkwardly sway together. What could go wrong?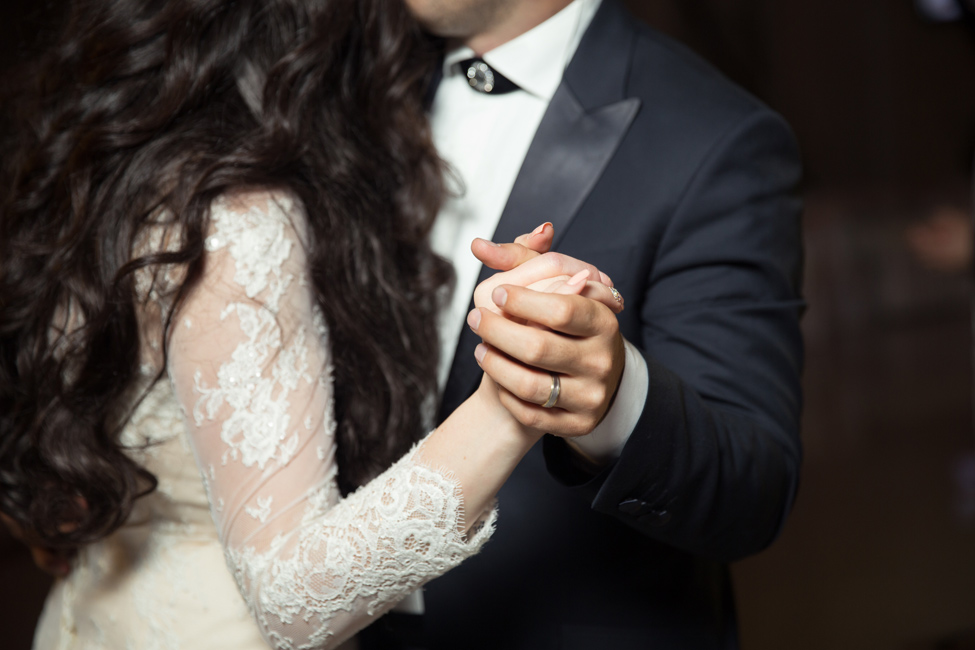 If you have already picked the perfect first dance song you should have no problem at all. But when it comes to actually choosing a song – it can be tricky. Most couples will decide on a tune that means something to them both. Some quirky couples may pick something more alternative and a little out of the ordinary.
If you haven't decided yet then you need to be careful with your song choice and really have a think about it. A love song you think is beautiful and romantic may actually be about a break up and have really inappropriate lyrics. Not exactly what you want to mark your long future together. These are the first dance songs you really want to avoid. And so, the list of first dance songs to avoid begins.
I Will Always Love You – Whitney Houston
This is top of our list purely because it will be a strong choice for a lot of people. It's slow, it's beautiful and it's about love. So what's wrong with this one?
Well, this song is actually about a break up. If you delve into the lyrics and look beyond the main line 'I will always love you' you will actually see that Whitney is singing  goodbye:
'So good-bye
Please don't cry
We both know I'm not what you, you need'
This is really not appropriate for your first dance as husband and wife. Pick another.
Marry You – Bruno Mars
So this seems like a really easy choice for some of you. Bruno Mars is pretty awesome and this song is about getting married. It's not too upbeat and something you can dance to. What's the harm?
Yes, this song is about getting married and clearly Bruno wants to marry this girl. Again it's a song with very inappropriate lyrics:
Cause it's a beautiful night, we're looking for something dumb to do
Hey baby, I think I wanna marry you
Essentially he is saying that getting married is a pretty stupid and dumb thing to do, so YOLO right? Wrong. Actually looking into the lyrics further, it may be about getting married on a whim whilst drunk:
Who cares if we're trashed
Got a pocket full of cash we can blow
Getting drunk then married just because you have nothing better to do isn't exactly the best choice to make, so just avoid this song.
A Whole New World – Disney
For the couple who are obsessed with Disney (we don't blame you), there are plenty of other songs to choose from, out of all of them please don't pick this one.
Yes the lyrics might be cute however, we cannot stress how unbearable this song is. Particularly since Peter Andre and Katie Price (now divorced may we add) killed this song when they performed it together back in 2006. No one needs to hear it again.
Thinking Out Loud – Ed Sheeran
We can hear the tuts and gasps already as soon as you read the title. What is wrong with this song? Surely there can't be anything. Well being honest here, yes it is a rather beautiful song – these lyrics will literally melt your heart:
So honey now 
Take me into your loving arms
Kiss me under the light of a thousand stars
Place your head on my beating heart
However, having worked in the wedding industry for a while; literally every couple who ever got married in 2014-2015 had this song as their first dance song and it has been totally overplayed. Please, please be a little more original and pick something else. 
Love Will Tear Us Apart – Joy Division
For most people it  might be a little more obvious that this song is definitely not appropriate for your first dance song, but I'm just going to reiterate to those of you that are looking to be original, that this song should really be avoided at all costs.
Yes it is slow – but this is the only positive point about this song. The title speaks for itself. Don't pick it!
Anything for Love – Meatloaf
Some might argue against this and, if you are die hard Meatloaf fans, don't let us stop you- but apart from the fact that this song has been overplayed at weddings, the lyrics aren't all that appropriate for a first dance song. It starts off quite nice:
'And I would do anything for love
I'd run right into hell and back
I would do anything for love'
Seeing these lyrics you may question why this song has made the avoid list. Meat Loaf himself has said that this song is about how far you would go for love. The lyric 'But I won't do that', well we'll let your minds make up what he means by this. But further on in the song he goes onto explain how their love will die out:
' I know the territory, I've been around
It'll all turn to dust and we'll all fall down
Sooner or later you'll be screwing around'
Not something you both want to be dancing to!
Macarana – Los Del Rio
If you're the sort of couple that hate the limelight and would prefer all your guests to be up on the dancefloor with you, please don't try and be clever with this one. This is a classic disco song and is garunteed to be on your DJ's playlist for the night. So don't ruin your first dance with the Macarana.
It's too cheesey and the lyrics are in fact, about getting someone into bed. Not really what you want.
A Thousand Years – Christina Perri
We don't care how cute you think this song is, you have to remember that your life isn't a movie and no you are not starring in a film.
Again, this is another first dance song that has been over-used. Don't be like everyone else, be different and pick something else!
Irreplaceable – Beyonce
Eveyone loves a bit of Queen B and this is a fantastic song. Looking at the title you may think this song its about a loved one being irreplaceable. However this song is far from it and is in fact a break up song:
'I can have another you by tomorrow
So don't you ever for a second get to thinking
You're irreplaceable'
We don't care how much you love Beyonce, play it safe and pick another song as this one is definitely not appropriate.
Every Breath You Take – The Police
Probably one of the most misunderstood songs since it's come out, The Police's 'Every Breath You Take' is actually excrusiuatingly creepy. Mistaken for an intense love song, when you really listen to the lyrics, you'll start to realise how stalkish the song is:
Every breath you take
Every move you make
Every bond you break
Every step you take
I'll be watching you
Unless you're okay with your partner being this weird, perhaps you should avoid this for your first dance at all cost. Not to mention it also appears on on one of the top creepiest songs of all time.
There are plenty more music choices that just aren't right for your first dance, but we'll leave those for you to decide. Whichever song you pick, make sure it's awesome and above all, special to you both. Enjoy that moment being in each others arms!